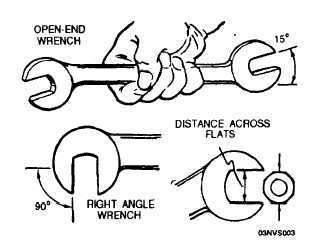 SAFETY PRECAUTIONS
Hammers are dangerous tools when used
carelessly and without consideration. Practice will
help you learn to use a hammer properly.
Some important things to remember when using
a hammer or mallet follow:
Do not use a hammer handle for bumping
parts in assembly, and never use it as a pry bar. Such
abuses will cause the handle to split, and a split
handle can produce bad cuts or pinches. When a
handle splits or cracks, do not try to repair it by
binding with string, wire, or tape. Replace it.
Make sure the handle fits tightly on the head.
Do not strike a hardened steel surface with a
steel hammer. Small pieces of steel may break off
and injure someone in the eye or damage the work.
However, it is permissible to strike a punch or chisel
directly with a ball-peen hammer, because the steel in
the heads of punches and chisels is slightly softer than
that of the hammerhead.
WRENCHES
A wrench is a basic tool that is used to exert a
twisting force on bolt heads, nuts, studs, and pipes.
The special wrenches designed to do certain jobs are,
in most cases, variations of the basic wrenches that
are described in this section.
The best wrenches are made of chrome vanadium
steel. Wrenches made of this material are lightweight
Figure 1-3.-Open-end wrenches.
and almost unbreakable.
This is an expensive
material, however, so the most common wrenches
found in the Navy are made of forged carbon steel or
molybdenum steel. These latter materials make good
wrenches, but they are generally built a little heavier
and bulkier to achieve the same degree of strength as
chrome vanadium steel.
The size of any wrench used on bolt heads or nuts
is determined by the size of the opening between the
jaws of the wrench.
The opening of a wrench is
manufactured slightly larger than the bolt head or nut
that it is designed to fit. Hex-nuts (six-sided) and
other types of nut or bolt heads are measured across
opposite flats (fig. 1-3). A wrench that is designed to
fit a 3/8-inch nut or bolt usually has a clearance of
from 5 to 8 thousandths of an inch. This clearance
allows the wrench to slide on and off the nut or bolt
with a minimum of "play." If the wrench is too large,
the points of the nut or bolt head will be rounded and
destroyed.
There are many types of wrenches. Each type is
designed for a specific use. Let's discuss some of
them.
OPEN-END WRENCHES
Solid, nonadjustable wrenches with openings in
one or both ends are called open-end wrenches. (See
fig. 1-3.) Usually they come in sets of from 6 to 10
wrenches, with sizes ranging from 5/16 to 1 inch.
Wrenches with small openings are usually shorter than
wrenches with large openings. This proportions the
lever advantage of the wrench to the bolt or stud and
helps prevent wrench breakage or damage to the bolt
or stud. One exception exists.
Hydraulic piping installations for catapult and
arresting gear are often in close spaces.
During
certain phases of hydraulic maintenance it may be
impossible to swing an ordinary wrench because of its
length. Ordinary wrenches that are normally available
increase in length as their size increases. Thus, when
a large-size wrench is needed, the length of the
wrench sometimes prevents its use, due to the space
available to swing the wrench. The Bonney wrench,
shown in figure 1-4, is an open-end wrench that may
be used to great advantage because of its thickness
and short length. This wrench is normally procured
in the larger sizes, although it is available in a range
of sizes to fit most hydraulic fittings.
1-4