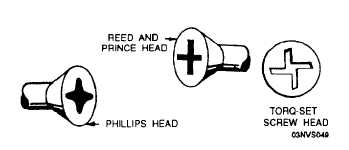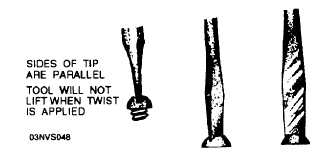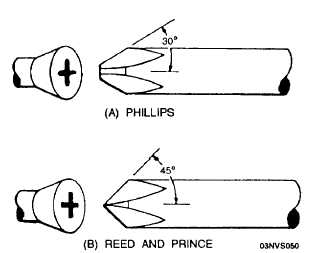 The steel shank is designed to withstand
considerable twisting force in proportion to its size,
and the tip of the blade is hardened to keep it from
wearing.
Standard screwdrivers are classified by size,
according to the combined length of the shank and
blade. The most common sizes range in length from
2 1/2 to 12 inches. There are many screwdrivers
smaller and some larger for special purposes. The
diameter of the shank, and the width and thickness of
the blade are generally proportionate to the length, but
again there are special screwdrivers with long thin
shanks, short thick shanks, and extra wide or extra
narrow blades.
When using a screwdriver, you should select the
proper size so that the blade fits the screw slot
properly. This prevents burring the slot and reduces
the force required to hold the driver in the slot. Keep
the shank perpendicular to the screw head (fig. 1-48).
RECESSED
Recessed screws are now available in various
shapes. They have a cavity formed in the head and
require a specially shaped screwdriver. The clutch tip
(fig. 1-47) is one shape, but the more common include
the Phillips, Reed and Prince, and newer Torq-Set
types (fig. 1-49). The most common type of screw
found is the Phillips head.
This requires a
Phillips-type screwdriver (fig. 1-47).
Phillips Screwdriver
The head of a Phillips-type screw has a four-way
slot into which the screwdriver tits. This prevents the
screwdriver from slipping.
Three standard-sized
Phillips screwdrivers handle a wide range of screw
sizes. Their ability to hold helps to prevent damaging
the slots or the work surrounding the screw. It is a
poor practice to try to use a standard screwdriver on
Figure 1-48.-Positioning screwdrivers.
Figure 1-49.-Comparison of Phillips, Reed and Prince, and
Torq–Set screwheads.
a Phillips screw, because both the tool and screw slot
will be damaged.
Reed and Prince Screwdriver
Reed and Prince screwdrivers are not
interchangeable with Phillips screwdrivers. Therefore,
always use a Reed and Prince screwdriver with Reed
and Prince screws, and a Phillips screwdriver with
Phillips screws, or a ruined tool or ruined screwhead
will result.
To distinguish between these similar screwdrivers,
refer to figure 1-50.
The Phillips screwdriver has about 30-degree
flukes and a blunt end, while the Reed and Prince has
45-degree flukes and a sharper, pointed end. The
Phillips screw has beveled walls between the slots; the
Reed and Prince, straight, pointed walls. In addition,
the Phillips screw slot is not as deep as the Reed and
Prince slot.
Figure 1-50.-Matching cross-slot screws and screwdrivers.
1-29