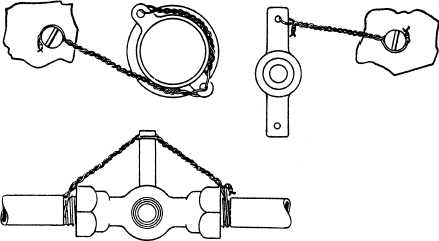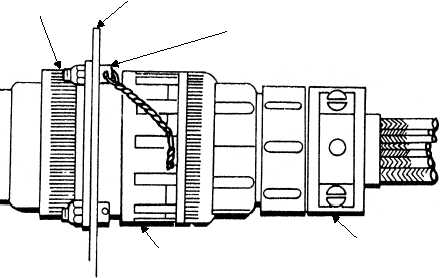 Torque all parts to the recommended values, and
align holes before you attempt to proceed with the
safetying operation. Never overtorque or loosen a
torqued nut to align safety wire holes.
Oil Caps, Drain Cocks, and
Valves
These units are safety wired as shown in figure
5-24. In the case of the oil cap, the wire is anchored to
an adjacent fillister head screw. This system applies to
any other unit that must be safety wired individually.
Ordinarily, anchorage lips are conveniently located
near these individual parts. When this provision is not
made, the safety wire is fastened to some adjacent part
of the assembly.
Electrical Connectors
Under conditions of severe vibration, the coupling
nut of a connector may vibrate loose. With sufficient
vibration, the connector could come apart. When this
occurs, the circuit carried by the cable opens. The
proper protective measure to prevent this occurrence is
by safety wiring, as shown in figure 5-25. The safety
wire should be as short as practicable. It must be
installed in such a manner that the pull on the wire is in
the direction that tightens the nut on the plug.
Turnbuckles
After you adjust a turnbuckle properly, safety it.
There are several methods of safetying turnbuckles.
Only two of these methods have been adopted by the
military services. These methods are shown in views
5-17
ANF0523
OIL CAPS
DRAIN COCKS
VALVES
NOTE:
THE SAFETY WIRE IS
SHOWN INSTALLED
FOR RIGHT-HAND
THREADS. THE SAFETY
WIRE IS ROUTED IN THE
OPPOSITE DIRECTION
FOR LEFT-HAND THREADS

.
Figure 5-24.—Safety wiring oil caps, drain cocks, and valves.
ANF0525
RECEPTACLE
BULKHEAD
OR
PLATE
STANDARD FILLISTER
HEAD SCREW
(DRILLED HEAD)
PLUG
ADAPTER
Figure 5-25.—Safety wiring attachment for plug connectors.