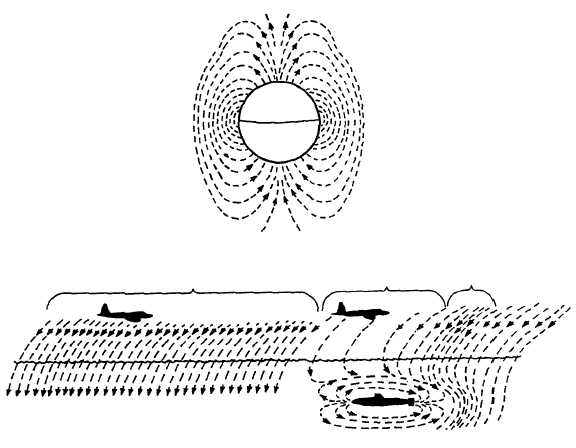 underwater
sounds
and
transmits
them
to
the
monitoring receiver in the aircraft. By dropping
sonobuoys in a pattern over a large ocean area, the
airborne sonobuoy receiver operator can determine the
approximate location of a submarine. Often its course
and speed can also be determined. These methods of
detection are passive, and therefore give the aircraft an
advantage. Other passive and active tactics use
sonobuoys to localize the submarine to a point where
attack by airborne weapons is possible.
The sonobuoy continues to float and gather
information until a seawater soluble plug dissolves and
lets the sonobuoy flood and sink. This action removes
an obstruction in the water and permits the frequency of
that sonobuoy to be used by another.
MAGNETIC ANOMALY DETECTION
(MAD)
Another
method
of
localizing
a
submerged
submarine
is
by
using
MAD
equipment.
This
equipment uses the principle that a metallic submarine
disturbs the magnetic lines of force of the earth.
Light, radar, or sound energy cannot pass from air
into water and return to the air in any degree that is
usable for airborne detection. However, lines of force in
a magnetic field can make this change. Therefore, a
submarine lying beneath the ocean's surface causes a
distortion (anomaly) in the earth's magnetic field. The
distortion can be detected from a position in the air
above the submarine. Detection of this anomaly is the
function of MAD equipment.
Figure 7-25, view A, shows the angular direction at
which natural lines of magnetic force enter and leave
the surface of the earth. View B represents an area of
undisturbed natural magnetic strength. In views C and
D, the submarine's magnetic field distorts the natural
field. The density of the natural field is decreased in
view C and increased in view D.
The MAD equipment in the aircraft allows the
operator to search selected areas of ocean immediately
and accurately. Upon detecting and evaluating a
possible enemy, the operator relays the information to
surface and airborne forces. Aviation Antisubmarine
Warfare
Operator
(AW)
ratings
operate
ASW
equipment.
7-20
N
EARTH
EQUATOR
S
(A)
(B)
(D)
C
( )
ASW AIRCRAFT WITH MAD
ANF0725
Figure 7-25.—Simplified comparison of natural field density and submarine anomaly.