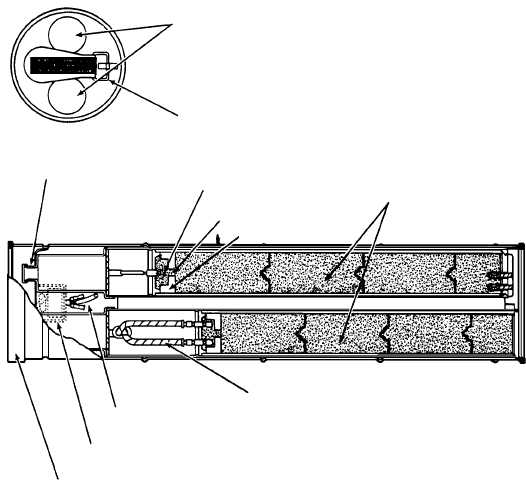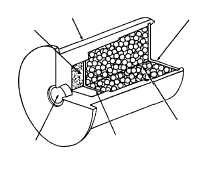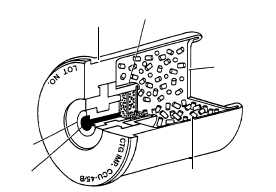 ensure personnel escape. Personnel in the AME rating
usually install cartridges and CADs used in personnel
escape systems.
IMPULSE AND DELAY CARTRIDGES
Impulse cartridges are used as power sources in
aircraft stores release and ejection systems. The
cartridges provide a force to free or eject a store away
from the aircraft or to operate other devices.
The impulse cartridge (fig. 8-26) contains an
electric primer, a booster, and a main charge. When the
cartridge is fired, gas pressure moves a piston and
unlocking linkage, freeing and/or ejecting the store
from the rack.
CCU-45/B Impulse Cartridge
The CCU-45/B impulse cartridge (fig. 8-27) is used
primarily for release and ejection of stores from an
aircraft in flight.
8-23
ADHESIVE FOIL DISKS
PULL RING
CHIMNEY CAPS
ELECTRIC SQUIB
STARTER COMPOSITION
STARTER PELLET
PYROTECHNIC CANDLES
TRANSFER FUSE
POLYURETHANE FOAM
WATER-ACTIVATED BATTERY
PROTECTIVE COVER
ANF0825
Figure 8-25.—Mk 58 Mod 1 marine location marker.
BOOSTER
CHARGE
CASE
CLOSURE
DISC
MAIN
CHARGE
DISC
PRIMER
ANF0826
MK 37 MOD 0
Figure 8-26.—Typical impulse cartridge used in personnel
escape systems.
IGNITION
ELEMENT
CASE
BUSHING
ELECTRODE
MAIN CHARGE
CUP CLOSURE
ASSEMBLY
Anf0827
Figure 8-27.—Impulse cartridge CCU-45/B (sectioned).