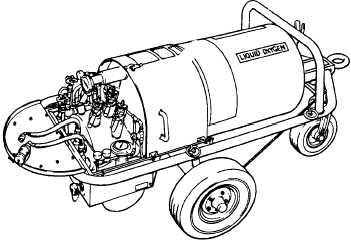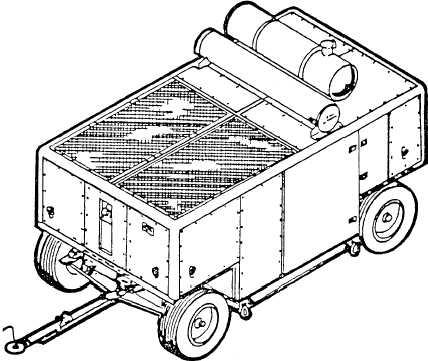 TMU 70/M Oxygen Storage Tank
The TMU 70/M (fig. 9-25) is a completely
self-contained
unit
composed
of
three
major
components: a 50-gallon storage tank, a 15-liter
transfer tank, and a system of transfer lines and control
valves.
The three components are permanently
mounted on a portable three-wheel trailer. The trailer is
equipped with a manually operated parking brake
system and retractable caster wheel. The storage and
transfer tanks have liquid level, pressure gauges, and
pressure relief devices.
Mobile Air-Conditioning Units
Most modern aircraft are crammed with electronic
equipment that generates tremendous amounts of heat
and makes air conditioning a requirement in the air and
on the ground. Air conditioning is normally provided
by an onboard system, but the aircraft engines must be
operating for the system to work. When on the ground,
electronic equipment must run for long periods of time
for maintenance, testing, or calibration. Therefore,
some other means of air conditioning is needed, and
that is the purpose of mobile air-conditioning units.
A/M32C-17 AIR-CONDITIONER

.—The A/M32C-
17 air-conditioner (fig. 9-26) is a mobile, four-wheel,
trailer-mounted, self-contained, six- cylinder diesel
powered unit that provides filtered air for cooling,
dehumidifying, or ventilating of aircraft electronic
equipment or cockpit/cabin areas during ground
maintenance. The air-conditioning components are
contained in a metal panel housing and assembled into
a refrigeration system, a ventilation system, a hydraulic
9-15
ANF0925
Figure 9-25.—TMU 70/M low-loss, closed-loop, liquid oxygen storage tank.
ANF0926
Figure 9-26.—A/M32C-17 air-conditioner.