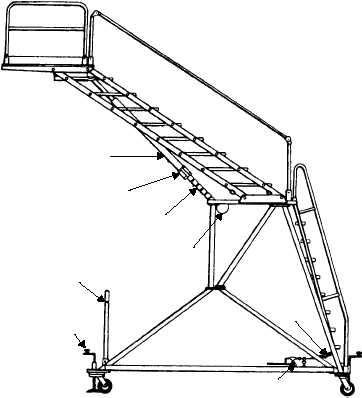 system,
and
associated
sensing
and
control
components. The trailer has towing and steering
capabilities and its own braking system. A collapsible
air ducting hose connects to the aircraft and provides
conditioned air.
A/M32C-21
AIR
CONDITIONER

.—The
A/M32C-21 air-conditioner (fig. 9-27) is a mobile,
four-wheel,
trailer-mounted,
electrically
powered,
self-contained unit powered by a 30-horsepower,
440-volt, 3-phase, 60-hertz ac electric motor that is an
integral part of the six-cylinder reciprocating type
compressor. A 30- to 50-foot external power cable, a
30-foot collapsible duct hose for aircraft connection, a
collapsible tow bar for towing and steering, tie-down
rings, and a manual parking brake are provided.
Hydraulic Jacks
Hydraulic jacks are frequently used in aircraft
maintenance. Maintenance of the tires, wheels, brakes,
and struts requires part or all of the aircraft to be lifted
off the deck. The entire aircraft must be lifted off the
deck to perform operational testing of the landing gear.
Different types and sizes of hydraulic jacks are
needed. Some typical hydraulic jacks are described in
the following paragraphs.
The basic types are
illustrated in figure 9-28.
AIRCRAFT AXLE JACKS

.—The aircraft axle
jack (fig. 9-28, view A) is a portable, self-contained,
hydraulically operated unit. These jacks are used to
raise the landing gear wheels off the deck to perform
maintenance operations. The lift, a component of the
base of the jacks, consists of three rams and an outer
cylinder. A rectangular tank welded to the base forms
the fluid reservoir.
AIRCRAFT TRIPOD JACKS

.—The aircraft
tripod  jack  (fig.  9-28,  view  B)  is  a  portable,
self-contained, hydraulically operated jack.
These
jacks are used for raising the wing, nose, or tail of an
aircraft. When used in sufficient numbers and at the
required jacking points, this jack can lift the complete
aircraft off the deck. The jack consists of three main
assemblies—a hydraulic cylinder, a tubular steel tripod
leg structure with caster wheels, and a hydraulic pump
assembly. The cylinder and ram are raised by manually
operating the hydraulic pump.
Maintenance Platforms
Performing maintenance on aircraft does not
always occur at ground level and often requires the use
of a maintenance platform. There are several different
models to use depending on type of aircraft, the
maintenance requirement, and location. Two common
maintenance  platforms  are  the  B-2  maintenance
platform and the B-4 maintenance platform.
B-2 MAINTENANCE PLATFORM

.—The B-2
maintenance platform (fig. 9-29) is a fixed height,
9-17
ANF0929
HYDRAULIC
CYLINDER
BARREL
LOCK
BARREL
GROOVES
HYDRAULIC
RESERVOIR
TOWBAR
JACKSCREW
HYDRAULIC
PUMPS
HYDRAULIC
LINES
Figure 9-29.—B-2 maintenance platform.