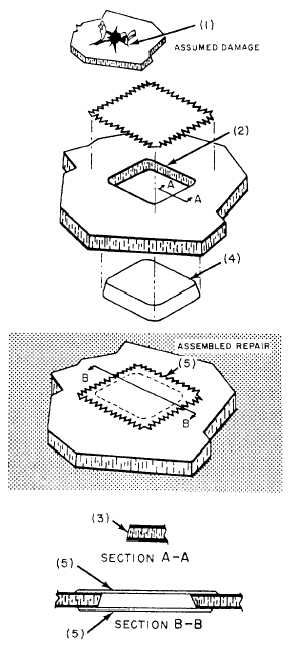 BALSA WOOD CORE.—

The repair shown in
figure 14-17 is used when no gain in structural
strength is desired, and it is only to be used for sealing
holes of 1 square inch or less in external surfaces.
The damaged area (1) should be cut out to a smooth
circular or rectangular shape. A 3/8-inch minimum
radius (2) must be provided at the corners of
rectangular cutouts.
NOTE:

This information applies to all
repairs made to balsa wood core panels. In
cutting out the damaged area, you must take
care not to separate the metal faces from the
core. You can accomplish this by using a very
fine-toothed coping or hacksaw blade for
straight cuts, and cylindrical saws (hole saws)
for cutting holes or rounding corners.
After the damaged section has been cut out, file
the edges smooth by using a fine cut file only. Then,
inspect the area (3) for separation of the skin facing
from the balsa wood core. If the facing has separated
from the core, rebond the two surfaces, using the
procedures outlined in the previous section on skin
separation. Then, complete the repair by using the
approved filler material and two fabric patches, as
shown in (4) and (5) of figure 14-17.
Figure 14-18 shows one flush-type balsa wood
core repair that is used on puncture damages larger
than 1 inch. To make this type of repair, cut out the
damaged area (1) as previously described. After the
damaged area has been cut out (2), cut back the inner
metal face 1 inch and remove the core material. See
(3) of figure 14-18.
Inspect for adhesion of the face to the core, and
seal the exposed filler material to prevent the entry of
moisture. Lay out the required rivet pattern and drill
pilot holes in the panel. See (4) of figure 14-18.
NOTE:

The rivet size, rivet spacing, and
number of rows of rivets are given in the
appropriate repair section of the applicable
structural repair manual.
Next, prepare two patch plates; a wood, plywood,
or phenolic tiller; and a metal filler. See (5), (6), and
(7) of figure 14-18. The outer patch plate should fill
the hole in the core, and the inner patch plate should
overlap the hole in the core approximately 1 inch for
each row of rivets.
Figure 14-17.—Balsa wood repair with filler plug and fabric
patch.
Locate the patch plates and wood filler. Using the
pilot holes in the panel as a guide, drill pilot holes
through the patch plates and wood filler. The patch
plates and wood filler are then bonded to the panel
using the specified adhesive. Next, locate the metal
filler, and drill pilot holes through both patch plates
and the wood filler.
All pilot holes are then size drilled and machine
or press countersunk, as applicable. Complete the
repair by installing the specified rivets. See (8) of
figure 14-18.
14-16