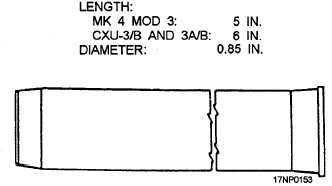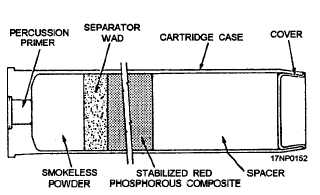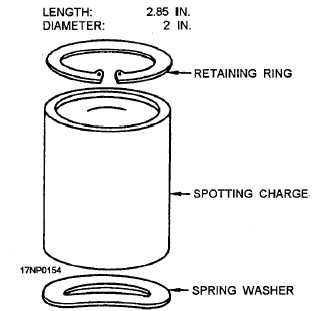 impact and fuze function. Three types of signal
cartridges are discussed in this section.
Mk
4
Mod
3
signal
cartridge
.
The Mk 4 Mod 3
practice bomb signal cartridge (fig. 4-13) consists of an
aluminum case. The rim end has a percussion primer,
and the opposite end is sealed with an aluminum disk.
The cartridge produces a flash of light and a white
smoke puff. The Mk 4 Mod 3 is primarily used for night
operations.
CXU
-
3/B
and
CXU
-
3A/B
signal
cartridges
.
The
CXU-3/B and CXU-3A/B practice bomb signal
cartridges (fig. 4-14) consists of a cylindrical aluminum
case. The case is closed on one end with a percussion
primer, and the opposite end is closed with a
crimped-in-place aluminum cover (cap). The cartridge
produces a dense, white smoke display for day
missions.
CXU
-
4/B
spotting
charge
.
The CXU-4/B spotting
charge (fig. 4-15) is a fire-free signal used with practice
bomb BDU 45/B to provide a daytime visual indication
of bomb impact point and fuse function.
Q1.
Q2.
Q3.
Q4.
Q5.
REVIEW NUMBER 4
Describe the primary purpose of decoy flares.
What means are used to launch the Mk 46 Mods
1, 1A, and 1C decoy flares?
What cartridge is used to fire a decoy flare from
a chaff dispenser?
What practice bomb signal cartridge is used
primarily for night operations?
What practice bomb signal produces white
smoke for day missions?
Figure 4-13.—Practice bomb signal cartridge.
Figure 4-14.—Mk 4 Mod 3, CXU-3/B, and CXU-3A/B practice
bomb signal cartridge.
HANDLING AND SAFETY
PRECAUTIONS
LEARNING OBJECTIVE:

Recognize the
safety precautions to follow when working with
pyrotechnics.
Pyrotechnic ammunition is one of the most widely
used types of ammunition in naval aviation.
Pyrotechnics of one type or another are carried in almost
every Navy aircraft, including unarmed transport and
training aircraft.
All pyrotechnic and screening devices, while
designed and tested to be safe under normal conditions,
are subject to accidental ignition. A general rule for the
handling of pyrotechnic devices is as follows:
You should be constantly aware that
pyrotechnics contain chemical components
that are intended to burn with intense heat,
and you should act accordingly.
Figure 4-15.—CXU-4/B spotting charge.
4-15