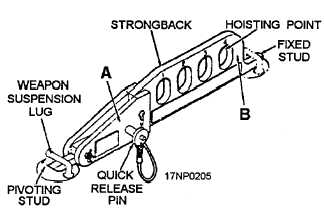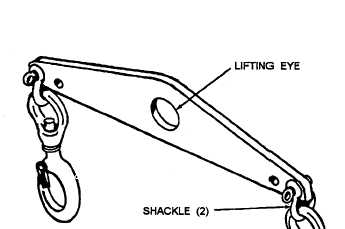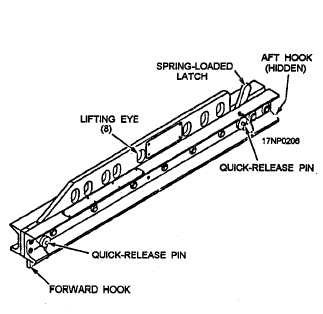 Figure 9-6.—Mk 43 Mod 1 weapons carrier.
with 14-inch suspension lugs, and it has an SWL of
2,500 pounds.
MK 51 MOD 1 WEAPONS CARRIER
The Mk 51 Mod 1 weapons carrier (fig. 9-8) is an
aluminum channel that is plate-carrier fitted with two
steel hooks. A fixed position hook with a spring-loaded
pinned latch is located at the aft end of the carrier. The
forward hook is adjustable to let you attach the carrier
to weapons or stores with 14- or 30-inch suspension
lugs. The forward hook is held in place by a
quick-release pin. Eight lifting eyes allow you to handle
weapons with different centers of gravity.
Before you attach the carrier to the load, put the
adjustable hook in the appropriate suspension
placement hole, which is held in place by a quick-release
Figure 9-7.—Mk 49 Mod 1 weapons carrier.
Figure 9-8.—Mk 51 Mod 1 weapons carrier.
pin. With the spring-loaded latch unpinned and
depressed, the carrier hooks are engaged with the
weapon lugs, Release the spring-loaded latch and pin
the latch in place with a quick-release pin to secure the
load An instruction plate, mounted on the carrier,
makes it easer for you to match the correct lifting eye to
the load. The Mk 51 Mod 1 weapons carrier is used for
horizontal lifting. It has an SWL of 4,000 pounds.
REVIEW NUMBER 2
Q1. What is the purpose of a carrier?
Q2.

The Mk 49 Mod 1 weapons carrier is constructed
of _____________________________________ .
Q3. The Mk 49 Mod 1 and Mk 51 Mod 1 weapons
carriers are used to ______________________ .
Q4.

What is the SWL of the Mk 51 Mod 1 weapons
carrier?
STANDS
LEARNING OBJECTIVE:

Recognize the
purpose and use of stands to include the
A/E32M-4 maintenance and reconfiguration
stand, the A/F 32K-1/1A bomb assembly stand,
and the A/F32K-10 small bomb assembly
platform stand.
Stands are metal frameworks used to support a
weapon that is being assembled or maintained. Stands
may be immobile or equipped with pivoting casters.
The stands discussed in the following paragraphs are of
the immobile type.
9-5