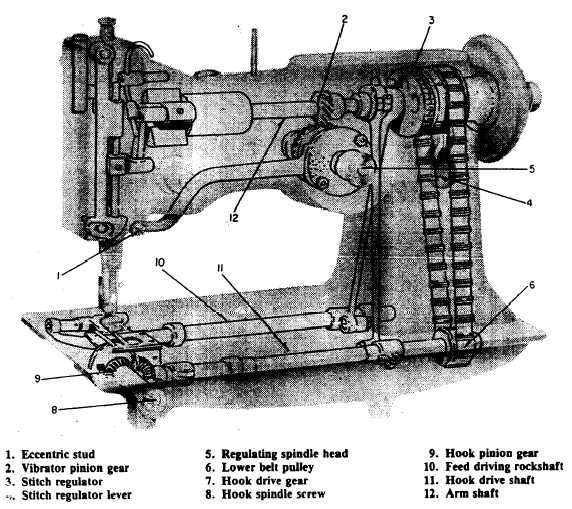 of the hook, and the long thread groove toward
the operator.
Setting and Timing the Needle Bar Frame
Turn the regulating spindle head all the way
to the right. This will cause the machine to sew
a straight stitch. The needle should be centered
in the hole in the throat plate. If not, loosen the
setscrew that holds the eccentric stud (1) and turn
the stud until it is centered (fig. 9-40.) Turn the
needle regulating spindle head (5) to the extreme
left for the widest throw. Turn the balance wheel
forward until the needle is at its lowest position.
The needle bar should start to move in a sideward
movement as the needle starts to rise. If it does
not, you must advance or retard the vibrator
pinion gear (2), shown in figure 9-40.
Timing Sewing Hook
Turn the balance wheel toward the operator's
side until the needle bar is all the way down and
has risen until the lower timing mark is just visible
below the needle bar frame. Loosen the setscrews
(10) in the lower belt pulley (fig. 9-41) and set the
hook point to the center of the needle eye.
Retighten the setscrews.
Setting the Hook Distance
To or From Needle
Loosen the two hook shaft retaining screws
(8) (fig. 9-41) and the two screws in the hook
pinion gear (7), and slide the hook to the correct
position. Retighten the hook shaft retaining
screws. Set the gear in the proper place on the
shaft—gear aligned with hook drive gear-and
240.92
Figure 9-40.-X-ray view of zigzag sewing machine.
9-32