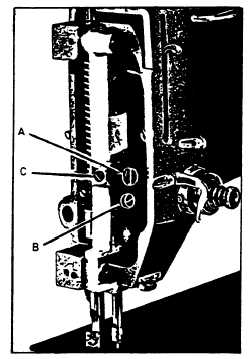 as it will go. Using a screwdriver, remove the two
screws holding the needle plate (N) to the bed of
the machine. Remove presser foot (P) from the
presser bar and lift the needle plate off the bed.
Now the feed dog becomes exposed. Loosen the
two screws that attach the feed dog to its carrier,
and remove the feed dog.
Proceeding in reverse order, first install
the special rope-sewing feed dog on the feed
dog carrier,    making certain that the two
screws are tightened well. Next, put in place
the special (throat) needle plate, and then
the special presser foot, tightening all their
screws securely, and close the slide plate.
Adjust the stitch length and the width
of zigzag to suit the rope to be sewn.
Setting the Needle Bar
at the Correct Height
Before adjusting the height of the needle bar,
make sure that the needle is pushed up into the
needle bar as far as it will go. Now, remove the
faceplate from the machine. Set the zigzag control
knob for straight sewing and turn the handwheel
toward you until the needle reaches the lowest
point of its downward stroke. See that the needle
enters the needle slot in the throat (needle) plate
at the very center. When the needle is centered,
proceed in the following manner:
Remove the slide plate, needle (throat)
plate and feed dog. Continue turning the hand-
wheel toward you until the needle bar has
risen approximately 3/32 inch above its lowest
position. The point of the sewing hook should
now be at the center of the needle at a
distance approximately 3/32 inch above the
eye.
If adjustment should be required, loosen the
setscrew (B of fig. 9-48) in the needle bar
connecting stud to raise or lower the needle bar
as may be necessary. Be sure to tighten the
setscrew after making this adjustment.
Centering the Needle in the
Throat (Needle) Plate
If the needle needs centering within the
needle slot in the needle (throat) plate, set
239.457
Figure 9-48.-Setting needle bar.
the machine for straight sewing and turn the
handwheel toward you until the needle bar
reaches the lowest point of its downward
stroke. Loosen setscrew (C of fig. 9-48)
and turn eccentric stud (A of fig. 9-48) until
the needle is centered correctly. Retighten
setscrew (C).
Set the zigzag knob to the widest stitch
position and turn the handwheel toward you.
Observe the passage of the needle through the
needle (throat) plate. It should pass at about an
equal distance from either end of the needle slot
when making the left and right zigzag stitch. If
necessary, readjust the eccentric stud (A of fig.
9-48) as described before.
Timing the Sewing Hook
Remove the presser foot, slide plate, throat
(needle) plate and bobbin case. Also remove the
feed dog. With anew needle in the machine, turn
the handwheel toward you until the needle bar
reaches its lowest point. Continue turning and
allow the needle bar to rise about 3/32 inch while
on its upward stroke. With needle bar in this
9-37