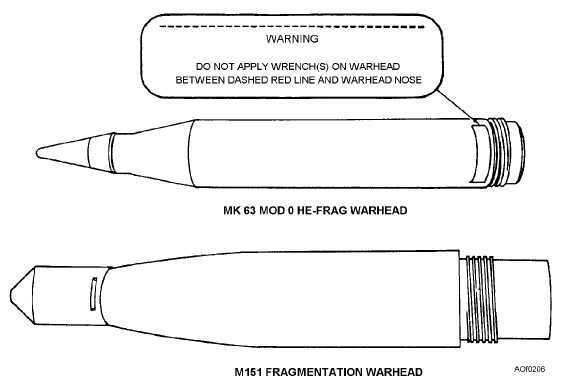 Warheads are classified as either 2.75 inch or 5.0 inch
warheads. They may be further classified as high
explosive,  flechette,  smoke,  flare,  or  practice.
Warheads for 2.75-inch rockets are normally received
with the fuzes installed.
There   are   many   different   warheads,   fuzes,   and
motor combinations available. Therefore, the following
discussion
is
general.
For
specific
component
information,   you   should   refer   to   

Aircraft Rocket
Systems 2.75-inch and 5.0-inch NAVAIR 11-75A-92

.
High-explosive  warheads  contain  high-explosive
material  (generally  comp-B)  surrounded  by  a  metal
case.  An  internally  threaded  nose  fuze  cavity  permits
the  installation  of  a  nose  fuze  or  an  inert  nose  plug,
depending   on   tactical   requirements.   Some   warhead
configurations require the use of a base fuze. Base fuzes
are   installed   at   the   factory   and   should   never   be
removed.  High-explosive  warheads  are  painted  olive
drab  and  may  have  a  narrow  yellow  band  around  the
nose.
There
are
several
types
of
high-explosive
warheads,  and  each  is  designed  for  a  specific  type  of
target.
HE-FRAG WARHEADS

.—High-explosive frag-
mentation  (HE-FRAG)  warheads  (fig.  2-6)  are  used
against  personnel  and  light  material  targets,  such  as
trucks  and  parked  aircraft.  Upon  detonation,  a  large
quantity   of   metal   fragments   accelerates   to   a   high
velocity. This action damages the target. The types of
HE-FRAG warheads currently in use are listed in table
2-1.
REVIEW NUMBER 1 ANSWERS
A1.
The  two  rockets  currently  used  by  the  Navy
are   the   2.75-inch   Mighty   Mouse   and   the
5.0-inch Zuni.
A2.
If a rocket does not fire when the firing circuit
is energized, it is known as a 

misfire

.
A3.
Thrust   is   the   force   exerted   by   the   gases
produced by the burning of the rocket motor
propellant.
A4.
In   rocket   propulsion,   the   Venturi   nozzle
decreases  turbulence  of  escaping  gases  and
increases   thrust.   Gas   pressure   inside   the
container  provides  about  

70%  

of  

the  

force

,
and the escaping gases provide about 

30% 

of
the

force 

to move the container forward.
A5.
The  three  components  of  a  rocket  are  the
motor, warhead, and fuze.
A6.
The components of rocket motors include the
motor tube, propellant, inhibitors, stabilizing
rod, igniter, and nozzle and fin assembly.
A7.
The inhibitor restricts or controls burning on
the propellant.
2-6
Figure 2-6.—High-explosive fragmentation (HE-FRAG) warheads.